The BITEN Clearpath awards Season VI took place on the 13th of December, 2015 at the Veer Savarkar Auditorium, Shivaji Park, Mumbai in the evening at 7.30 PM. This was the sixth year of the BITEIN awards and there was a collaboration with Clearpath once again for Season VI. The awards nite was hosted by Dr. Ajay Kakar and Dr. Poonam Punjabi. Keeping the BITEIN awards tradition in mind, the theme for the entertainment this year was "Fusion Dhamaka" which presented a blend of Indian and western cultures in song as well as dance. The artists who performed were all dentists along with a few budding dentists.
The Fusion Dhamaka entertainment then put on its first act with a combo of two most memorable classic hits of yesteryears, Mamma Mia from ABBA and Mil Gaya, Humo Saathi Mil Gaya from Hum Kissi se kam nahi composed by the one and only R.D.Burman. The duet was presented by the singing duo of renowned dentists Dr. Mona Kakar and Dr. Sanjay Shah. The beautiful fusion number was accompanied by a scintillating dance performance by Dr. Neelam Paradia, Dr. Bhumika Thapar, Dr. Medha Pethe and Dr.Shruti Deore. All four are professional dentists but excel in various dance forms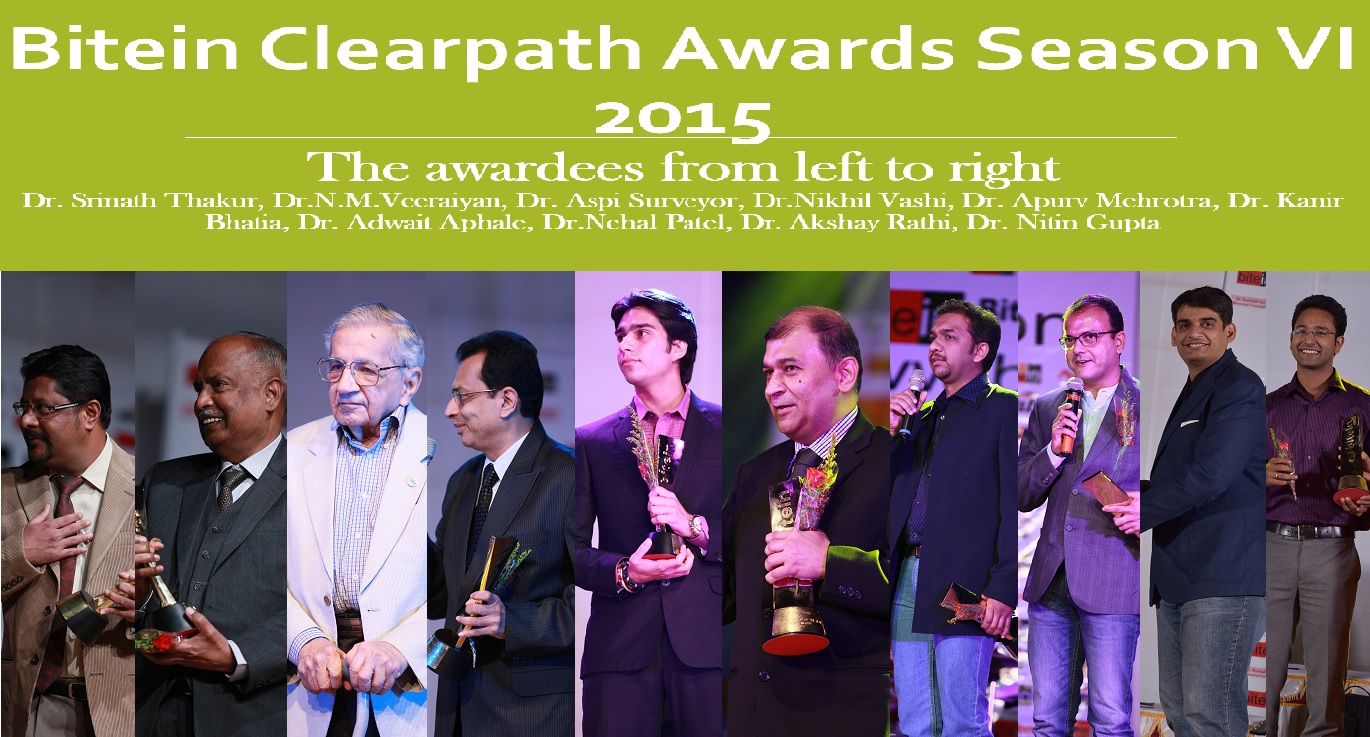 The opening award for "Administrative Excellence" was given away to
Dr.Srinath Thakur
, Dean of S.D.M.Dental College, Dharwad. This award was given away by Hon. Chief Justice B.N.Srikrishna and Dr. A.Kumarswamy. This was followed by the "Dental Entrepreneur" award which was given to
Dr. Veeraiyan
from Saveetha Dental College, Chennai. This award was also given away by Hon. Chief Justice B.N.Srikrishna and Dr. A.Kumarswamy.
Sanjay then presented the second Fusion of the evening. He blended an Elvis Presley hit "Marguerita" with the unforgetable "Kaun hai jo sapno main aaya" along with a Flamingo dance by Drs. Anupama, Dr. Neelam, Dr. Bhumika and Dr. Medha. This was truly a most beautiful performance. Kudos to Choreographer Aziz for putting together such lovely dances. This was followed by an amazing group dance by M.G.M interns called "Idli Burger". This was Bharat Natyam blended into western disco.
The next award given away was the "Outstanding Teacher" award given to
Dr.Aspi Surveyor
. The award was given away by Dr. D.G.Pol and Mr. Rajiv Sethi. This was followed by the "Dental Research" award which was given away to
Dr. Nikhil Vashi
. The award was given away by Ms Saroja Sirisena,Consul General of Sri Lanka and Dr. Sharad Kokate, dean of Y.M.T Dental College.
Mona then presented a double Fusion Dhamaka with Punjabi Western pop by singing "Chitiyaan Kalayian" and "Baby Doll Sone di" which was accompanied by a dance by Drs. Neelam, Bhumika, Shruti and Anupama. Then came a powerhouse performance by Dr. Abhijeet Jadhav who sang the classcically blended Ganesha song with a western orchestra. He was supported in the wings by six young dentists in chorus.
This was followed by the UG awards. The top five nominees were Dr.Shubhangi Gupta from Bhopal, Dr. Bhavya Dasyam from Hyderabad, Dr. Sumit Bhatt from Rishikesh, Dr. Amanjyot Kaur from Chandigarh and Dr. Apurv Mehrotra from Lucknow. Dr.Rajiv Chitguppi carried out an excellent live question/answer session and the three judges came up with the winner who was
Dr. Apurv Mehrotra
from Lucknow. The award was presented to him by Dr.Vaibhav Kumar and Dr.Devchand Gala.
The next act of Fusion Dhamaka was the most melodious and romantic blend of 500 miles, a classic from Peter, Paul and Mary and "Jab koi baat bigad jaaye", a lovely number composed by Rajesh Roshan in the movie Jurm. This was also presented by Mona and Sanjay. Three dentist couples Drs.Ajay & Mona, Drs. Dheeraj and Poonam and Drs.Sanket and Manisha waltzed to the music. This was followed by a beautiful solo rendition by Sanjay of "Muskurane ke wajah tum hee ho, tum hee ho".
The award for Clinical Dentist of the year was then given away to
Dr. Kanir Bhatia
. The award was once again presented by Hon. Chief Justice B.N.Srikrishna and Dr.Suresh Meshram. Then the award for "Technical Excellence" was given away to
Dr. Adwait Aphale
by Dr. Paresh Thakkar and Mr. Nasser Merchant.
The M.G.M dental college group then presented a brilliant combo dance titled "Misal Bytes" which was a mix of Lavni and Hip Hop. There were 14 dancers who put up a great show. This was followed by a Beat Boxing performance by Y.M.T Dentists, Dr.Akash Bhandari and 3rd year student Ms Vishwa Deshmukh.
The next award given away was the "Beyond Dentistry" category and this was given to
Dr. Nehal Patel
from Surat. The award was given away by noted marathoner Mr.Vitthal and Mr. Umesh Laljian from Carestream. Then the award for "Dentistry Imprinted" was given away to
Dr.Akshay Rathi
from Mumbai for his publication, Gonion. The award was given away by Dr. Arnawaz Havewala, past editor of the Dental Voice. A throughly enjoyable stand up comedy act was then presented by Ms.Pavitra Shetty accompanied by her father the one and only Dr. Ajit Shetty. She tickled and amused the audience with her sharp wit and humour.
The final award was then the PG awards. The five nominees for the PG awards were Dr.Nitin Gupta from Bangalore, Dr. Amit Srivastava from Modi Nagar, Dr. Rahul Dhami from Rishikesh, Dr.Nikita Bhatnagar from Bhopal and Dr. Mayuresh Baheti from Loni. They were once again quizzed by Dr. Rajiv Chitguppi and he had to break the tie between Nikita and Nitin as per the three judges verdict. The final winner of the award was
Dr. Nitin Gupta
from Bangalore. The grand finale was Deewangi Deewangi from Om Shanti Om sung by Dr. Sanjay Shah and Dr.Mona Kakar. All the artists were on stage for this magum opus number till the curtains were drawn. The BITEIN awards was possible due to the continued support from Hindustan Unilever as the principal sponsor, Clearpath as a partner and Prime Dental Products, Carestream and the Rushabh Gala Foundation as the supporting sponsors.