Story by
Dr. Sana Peerbhoy
Date :2016-04-12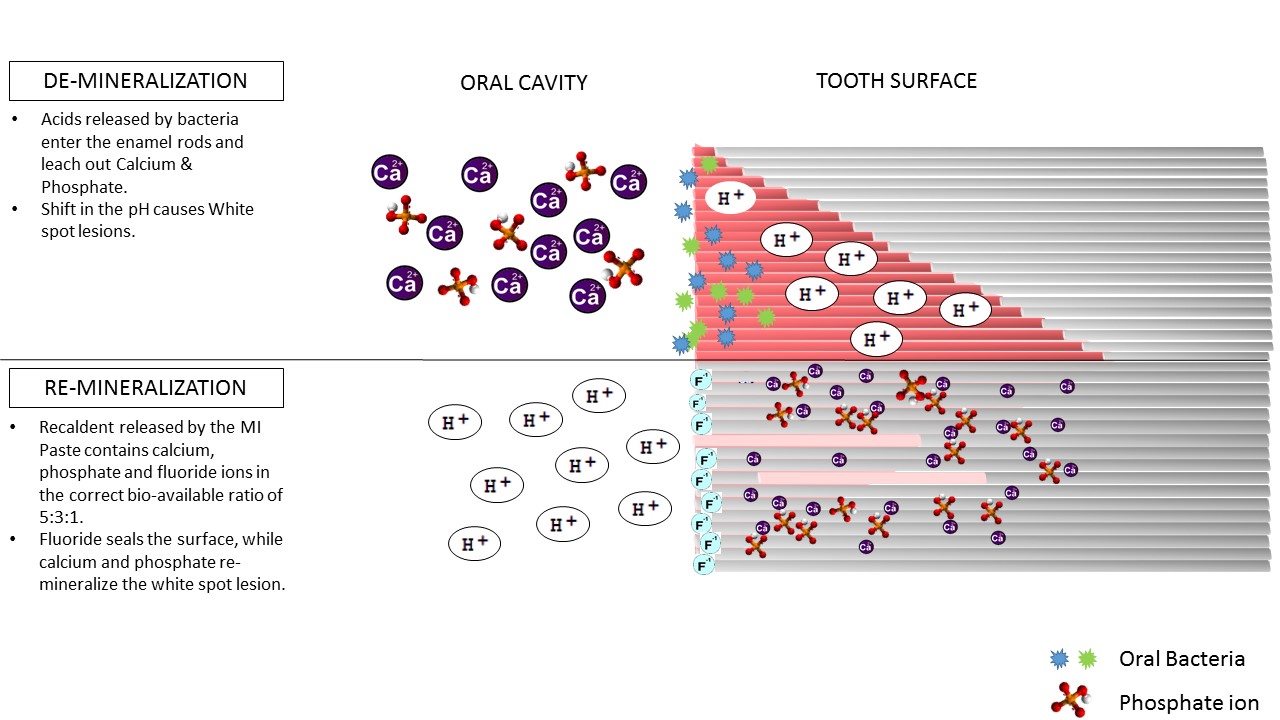 MI Paste Plus is a water-based, sugar free topical paste/creme containing ACPF – casein phosphopeptide-amorphous calcium phosphate fluoride) a milk derivative protein, with incorporated fluoride to aid in tooth remineralization and caries prevention. It is not a toothpaste, it is a supplement for the naturally occurring calcium and phosphate in the saliva, re-mineralizing the teeth every day. It changes the biofilm by adhering easily to soft tissue, pellicle, plaque and even hydroxyapatite. The paste contains and releases calcium, phosphate and fluoride ions in the correct bio-available ratio of 5:3:1 for enamel remineralization.  It is the only product for professional use containing recaldent enhanced with 900 ppm sodium fluoride. Besides the advantage of FDA 510K Clearance as a prophylaxis paste and for treating hypersensitivity, it can also be claimed in a patients insurance as fluoride treatment.
White Spot Lesions
Certain white spot lesions which are subsurface demineralization are indicative of active carious activity. Fluoride acting as a catalyst for remineralization seals over the outside of the white spot, thereby making the outer enamel dense and more resistant to acid. Calcium and phosphate when bioavailable go beneath the surface and re-mineralize the enamel rods and make the white spot more translucent and thus more aesthetic.
Application
MI Paste Plus may be used in-office in a tray or applied with a swab, gloved finger, or an interproximal tooth cleaning brush too at risk surfaces. It can also be sent home with the patient for at-home application. The paste is available in Strawberry, Melon, Vanilla, Mint, and Tutti Frutti flavors in assorted and single-flavor packages of mint and vanilla. Unlike a toothpaste it can be used several times a day and also can be left overnight.
Indications
MI Paste Plus is indicated for use as a topical treatment in the following types of patients:
1. High-caries risk
2. Remineralization of White Spot Lesions
3. Xerostomia
4. Orthodontics (helping control/reduce dentin sensitivity)
5. Post-bleaching (minimizes sensitivity)
6. Oncology
7. Pediatric
8. High plaque/Special needs patients
9. During pregnancy as well as during breast feeding
Hygienists applied the paste to root surfaces before scaling and received excellent feedback from patients regarding reduction in sensitivity.
Contraindication
MI Paste Plus contains 0.2% (900 ppm) fluoride and is thus not recommend for children under 6 because may increase the risk of dental fluorosis. Avoid use in patients with allergies to casein IgE protein or benzoate preservatives.
Archives are avaialble only for BITEIN Members.
Click here to sign up Now